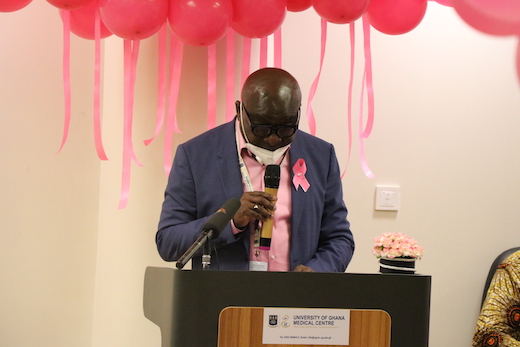 UGMC launches Breast Cancer Awareness Month
The month of October is commemorated every year as Breast Cancer Awareness Month worldwide.
The observance of the breast cancer awareness month is to impress upon women (and men), the need to screen their breasts routinely in order to detect the disease at a treatable stage before it becomes deadly. In this regard, the University of Ghana Medical Centre (UGMC) an ultra-modern facility that seeks to provide sub-specialty level medical services, training, and research has launched its maiden Breast Cancer Awareness Month at Legon in Accra.


The Centre will thus be offering free physical breast screening, ultrasound scanning of the breast as well as free mammograms throughout the month of October on an appointment basis.


Addressing participants at the launch, which was held on October 8, 2020, the Chief Executive Officer of UGMC, Dr. Darius Osei indicated that early diagnosis of breast cancer was crucial to its successful management and control. "We are particularly passionate about diagnosing this complex disease as early as possible in our women especially as current research reveals that the Disease is becoming increasingly common among women aged 35 years and below in Ghana and in other sub–Saharan countries," he said.


 Dr. Osei encouraged all loved ones of individuals diagnosed with Breast Cancer to make it a priority to encourage them in order for newly diagnosed patients to have the right mental fortitude and confidence to fight the Disease as it is surmountable.


 He stated that although the UGMC  will be fully operational in mid-2021, the facility's   Medical Training and Simulation Centre and Medical Research and Scientific Centre were already operational whilst the Clinical wing of the Centre is currently offering over twenty different types of medical services to the general public.


The Guest Speaker for the launch, Professor Joe Nat Clegg-Lamptey, a Professor of Surgery and  Consultant Surgeon at the University of Ghana Medical School at the Korle Bu Teaching Hospital respectively,  called for a multi-sectorial engagement to re-examine strategies to address breast cancer in the country. "The Ministry of Health needs to have a seamless route for the diagnosis and treatment of breast cancer because although the Disease is listed on the  National Health  Insurance Scheme, women with breast cancer are unable to fully benefit from the  Scheme due to administrative lapses" Prof.   Clegg-Lamptey stated. 


Prof.  Clegg-Lamptey also revealed that some spiritualists and herbalists were competing with medical doctors when it came to offering treatment to women with breast cancer in Ghana. Consequently, although awareness of the Disease was quite high amongst Ghanaians, this was not translating into the early presentation of patients to the hospitals at the onset of the disease.


He indicated that the incidence of Breast Cancer peaks around the mid-40s in Ghana and urged women especially those aged 40 years and above to adhere to the annual triple protocol for breast cancer screening which entails the monthly self-breast examination or physical screening by a health expert together with the mammogram and ultrasound scan of the breast. He assured Ghanaians that if the Disease is detected, a combined medical team which consists of surgeons, radiologists, psychologists, plastic surgeons, and other experts work together as a team to care for the patient. "Early detection and effective treatment are what has been found to help beat breast cancer"  he emphasized. 


The Assembly woman for Ayawaso West Municipality,  Hon. Victoria Esinam Assah-Offei who was a special guest at the Launch stated that she was really excited that UGMC was providing free screening services to the women residing at  West Legon in particular because although the area was considered elite by most people, there were a lot of female residents of the area who could not afford the cost of breast ultrasound scans or mammograms.


Mrs. Rama Felli,  a 71-year-old breast cancer survivor for over 16 years, advised women who have been diagnosed with breast cancer to be positive-minded and listen to their doctor's advice in order to have a better quality of life whilst battling the Disease.