Imaging
We provide diagnostic services using modern imaging equipment under the following imaging modalities: General Radiology, Fluoroscopy, Ultrasonography, Computerised Tomography.
contentImage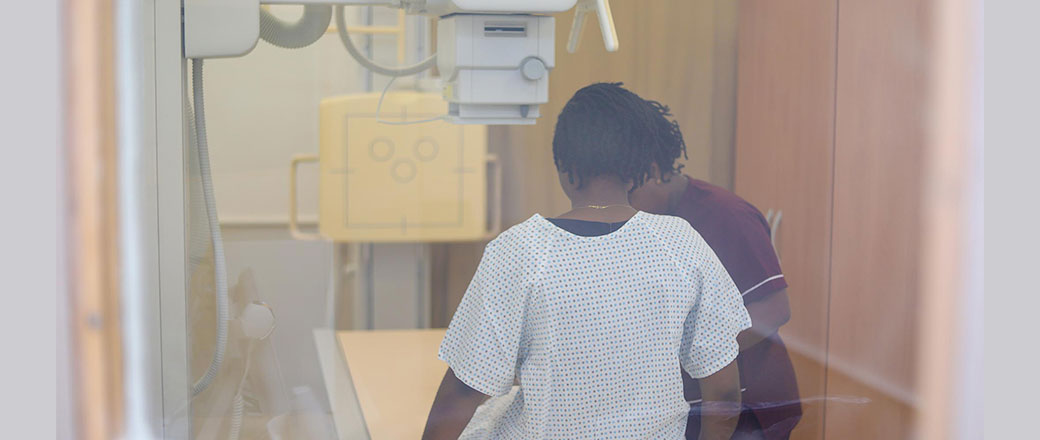 ABOUT THE UGMC IMAGING DEPARTMENT
The UGMC Imaging department provides diagnostic services using modern imaging equipment for both in and outpatients under the following imaging modalities:
GENERAL RADIOGRAPHY
FLUOROSCOPY
ULTRASONOGRAPHY
COMPUTERISED TOMOGRAPHY (CT Scanning)
MAMMOGRAPHY
The department is equipped with the following state of the art imaging equipment:

General Radiography Equipment: These are types of equipment which use ionizing radiation and are employed in general radiography examination such as common chest x-ray, spines and extremities. The facility has two general-purpose direct digital equipment and mobile Xrays equipment for radiography.
X-RAY Machine: These types of equipment are for general radiography such as the chest, spine and extremities.
Fluoroscopy Machine
: This type of medical imaging shows continuous x-ray images on a monitor, much like an x-ray movie. These equipments are used for special examination such as; barium studies, hysterosalpingogram (H.S.G), Intravenous urogram (I.V.U), Myelograms, etc.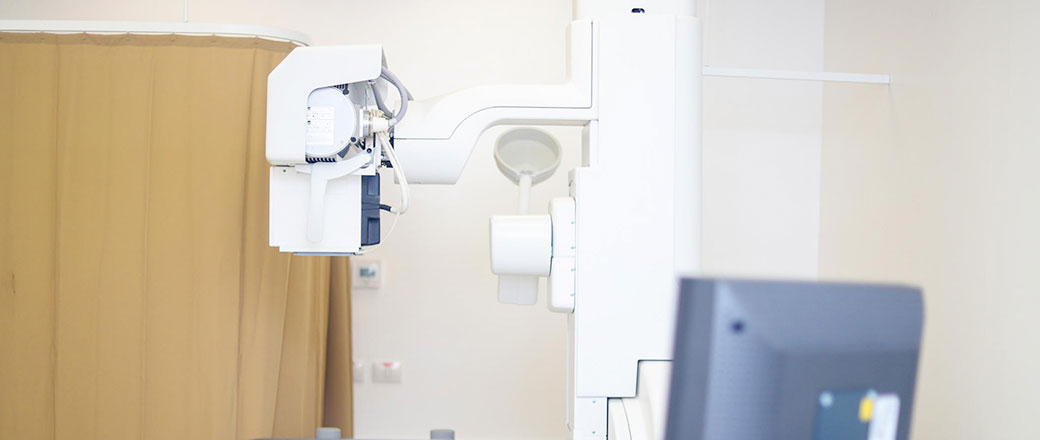 Ultrasonography: This type of imaging equipment uses sound waves to produce pictures of internal organs of the body. It is used to help diagnose the causes of pain, swelling and infections in the body's internal organs and to examine the rate of development in babies in pregnant women, neonate's brain, other organs of babies in-vitro, blood vessels for occlusion etc.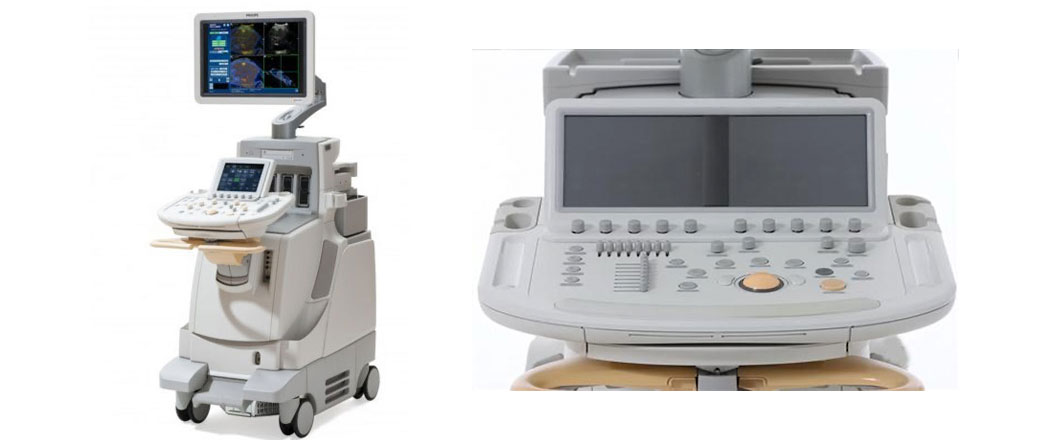 Computerised Tomography (CT SCAN)
: This equipment makes use of a computer-processed combination of several x-rays and measurements taken from different angles to produce cross-sectional images of specific areas of a scanned organ and allows the radiographer and radiologist to see inside the organ. Its powerful reconstruction prowess offers greater image detail and allows 3D image of organs and pathologies to be generated as compared to 2D in general radiography. It can be used for pathologies anywhere in the human body. Because of these and its short scanning time, CT scan is widely used for trauma imaging and neuroimaging conditions such as CVA.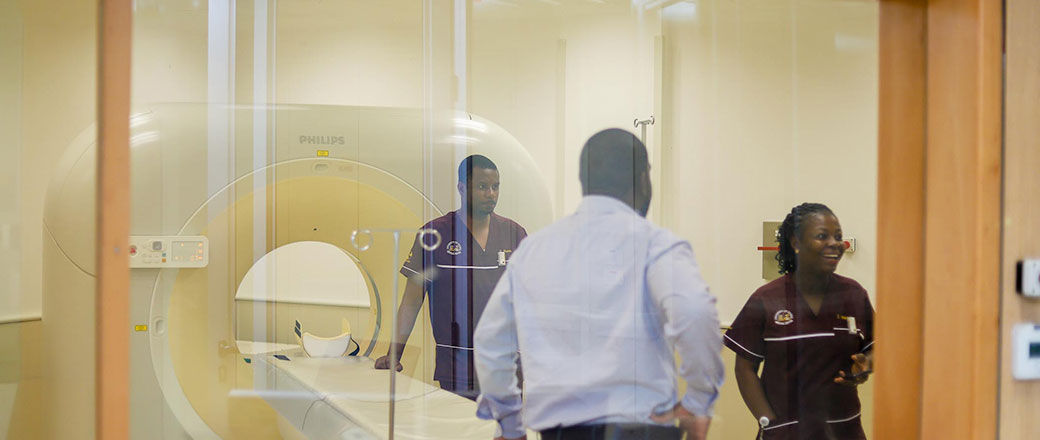 Mammography
: The mammography equipment is used to image the breast for ailments such as nipple discharge, pain, swelling and for screening the breast in both men and women for breast cancer.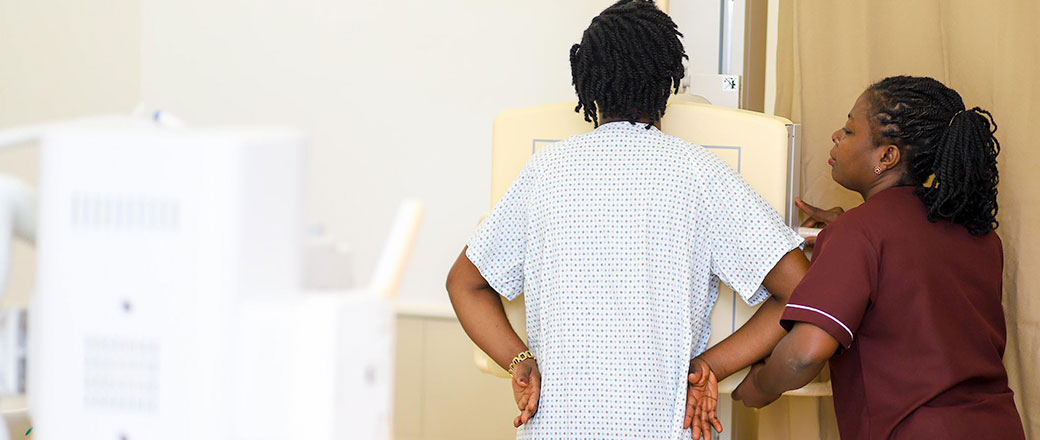 Our warm and receptive staff are ready to attend to you every day (Monday to Sunday from 8:00 a.m. - 6:00 p.m.)
For further information, kindly call 0302550843-5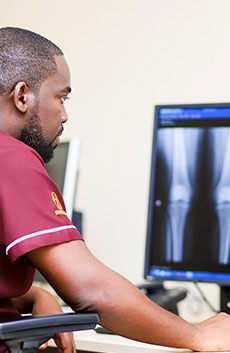 Dr. Lawson, Medical Officer in Charge
Services
Mammography
Ultrasound
Fluoroscopy