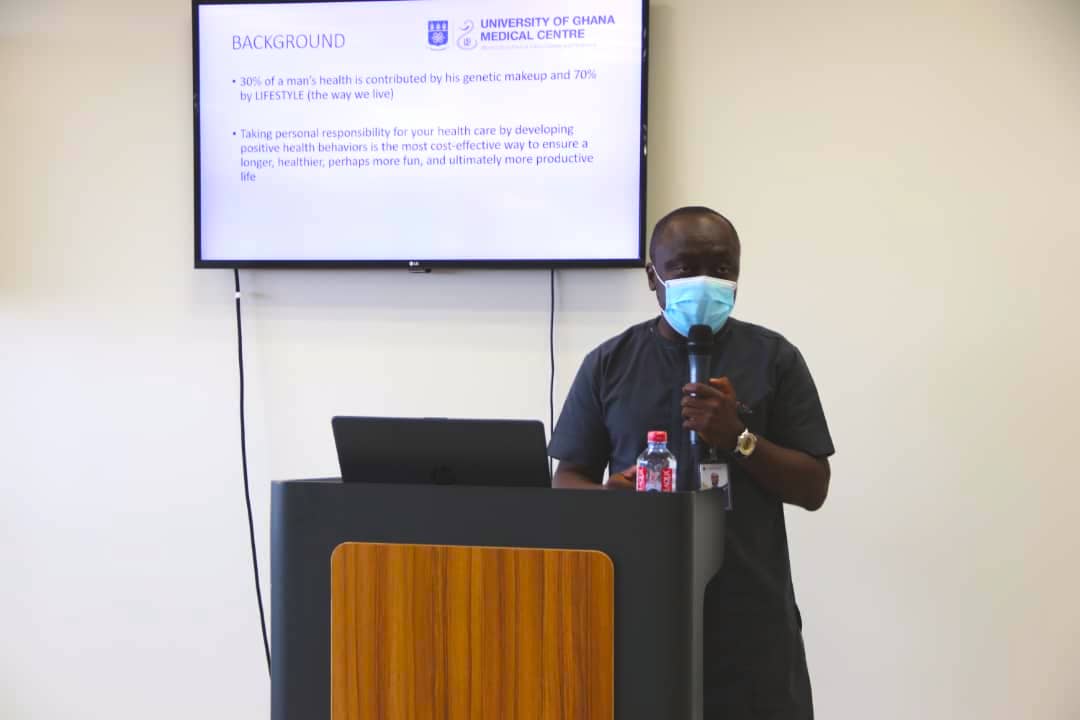 Ghanaians advised to start screening for Hypertension from 18 years - UGMC Family Medicine Specialist
The University of Ghana Medical Centre (UGMC) has commemorated World Health Day (WHD) 2021 with a webinar and free health screening exercise at the Centre.

The Chief Executive Officer of UGMC, Dr. Darius Osei, in his remarks to launch the Day stated that "We will ensure that all persons who access healthcare at UGMC receive fair and quality health care at the quaternary level, in line with the  WHD 2021 theme of "building a fairer healthier world for everyone" Dr. Osei added that health is the greatest asset of all and entreated clients and staff to do all that was within their power to maintain it. 

The Director of Medical Affairs of UGMC, Dr. Kwame Anim - Boamah, stated that as a patient-centred facility, the UGMC was passionate about providing individualized or tailor-made care such that clients are treated based on the specific conditions that they present, and this approach often yielded better outcomes.

Family Medicine Specialist & Diabetologist of UGMC, Dr. Francis Addai, who spoke on the topic "Maintaining my health at any age", revealed that 30% of a man's health is due to his genetic makeup whilst 70% of it is due to lifestyle choices hence there was the need for individuals to take personal responsibility for their health by developing positive health behaviours. 

He encouraged caregivers to practice evidence-based care by taking critical notes of clients' medical, surgical, medication and allergy histories as well as their social and family histories.

 He further called for a comprehensive review of systems to find pertinent risk factors that could guide health professionals in the screening and counselling of clients. 

In terms of age-appropriate screening, he stated that it was advisable for blood pressure screening to commence from 18 years and for the screening of lipid levels, obesity, depression and suicide risk in adolescents to start from between 12 to 18 years. He advised that screening for cervical cancer should start from 21 years in young females unless there was evidence of early sexual activity in the young girl, in which case the screening must be done earlier. He added that the youth (male and female) should also be screened for Hepatitis B and other Sexually Transmissible Diseases (STD's).

For adult men, screening for obesity/overweight (calculation of Body Mass Index (BMI) or measurement of waist circumference should be done at every hospital visit whilst diabetes screening should be done annually. Additionally, cholesterol screening for all men should start from age 20, hypertension screening should be done yearly, colorectal or colon cancer screening should be done between the ages of 50-75 years but should commence at 40 years for high-risk groups. Annual prostate cancer screening comprising both digital rectal screening exams and prostate-specific exams should start from 50 years but 40 years for African men.

For adult females, screening for obesity/overweight (calculation of body mass index (BMI) screening and/or waist circumference) should be done at every hospital visit, diabetes screening should be done annually, cholesterol screening for all women should start from age 20, cervical cancer screening should start at 21 years and must be repeated every 3 years with a Pap smear (Women aged 30 - 65 years and above should be tested every five years for the Human Papillomavirus (HPV), the virus that causes cervical cancer and some other types of cancer), annual breast cancer screening for women should commence from 40 years and above and earlier for women at high risk. He indicated that a mammogram is the gold standard for breast cancer screening and should be done yearly without discontinuation. Screening for osteoporosis should be done among women aged 65 and older and folate supplementation is advised for all women planning or capable of birth, Dr Addai revealed.

He encouraged all to endeavour to be active to avoid lifestyle diseases. "If you are not taking at least 6000 steps a day, you are not active enough and will need to take proactive steps to be more active otherwise you are likely to start experiencing metabolic diseases", he said.

Dr. Addai added that certain vaccines like the influenza vaccine (especially for the elderly,) Diphtheria/Tetanus/Pertussis vaccine, Diphtheria/Tetanus vaccine and currently, the COVID-19 vaccines, were all useful as preventative measures against specific diseases.

After the lecture, about 60 members of the general public were screened for Diabetes, Hypertension and obesity at the OPD of the Centre.