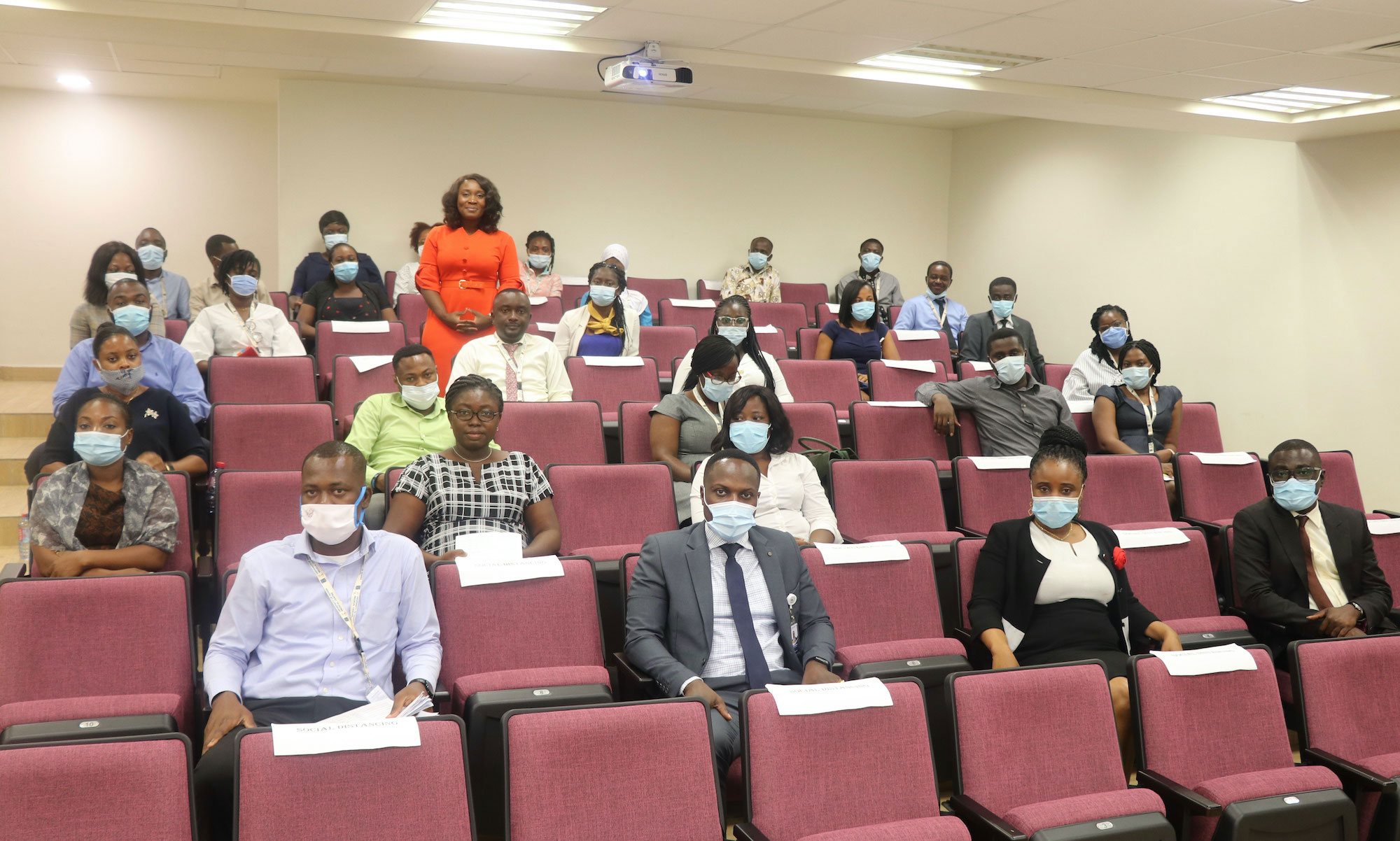 100 staff of UGMC trained on excellent client service
One Hundred (100) clinical and administrative staff of the University of Ghana Medical Centre (UGMC) have received training on how to deliver excellent client service.

The Chief Executive Officer of UGMC, Dr. Darius Osei,  urged the participants to endeavour to have good people skills which were critical in the delivery of excellent client service.
"It is costly to the organisation when employees do not treat clients well"   Dr. Osei stated.

The training facilitator, Ms. Yvonne Ohui MacCarthy, (President of the  Institute of  Customer Service Professionals- Ghana) impressed on the participants that excellent client service begins with excellent service to internal clients such as colleagues and superiors at the workplace.  
"If your internal organs are diseased,  sooner or later, it will show on your skin or your face that all is not well with you. So if you treat each other horribly, it will spill over to show how you treat external clients", she stated.

In the highly interactive training session, Ms. MacCarthy entreated the participants to have a positive attitude to work, be punctual at all times and learn to communicate effectively bearing in mind that communication is 55% visual (relating to non- verbal communication that uses our sense of sight), 38% vocal (relating to voice tone, pitch, emphasis)  and 7% verbal (relating to choice of words).  
She explained to them that the use of visuals (non-verbal communication) was more powerful and effective than verbal communication and advised them to be particularly mindful of non-verbal messages when communicating with clients.

She added that global healthcare standards demand that healthcare employees everywhere treat patient information with utmost confidentiality at all times except during special circumstances which warranted disclosure.

Ms. MacCarthy also advised management to periodically review their policies since  "organizations are constantly evolving". 
She, however, cautioned that whenever such organizational policies are reviewed,  clients should be well informed of the changes in order to avoid situations where outmoded processes and procedures remained unchanged at the operational level even though they had been updated or changed by management.

She revealed that all clients, irrespective of the product or service that was being delivered to them, want value for money, respect, accurate information, reliability, fairness, empathy and realistic prices for products and services purchased. 
She added that staff should always be mindful of their choice of words bearing in mind that "Healing is therapeutic" so the health of a client can be negatively or positively impacted by the choice of words that are used when communicating with them.

The Head, Client, and Public Relations of UGMC, Ms. Barbara Owusu-Hemeng stated that regular client relations training was necessary for all  UGMC  employees because in today's competitive world, excellent client relations was a distinguishing factor between organisations that thrived and those that did not.

The Director of Human Resources, Mr. Francis Kyereboah encouraged participants to have a psychological contract with their employers in order to have an ownership mentality that would naturally push them towards client service excellence at all times.

The Director of Operations of UGMC, Mrs. Lucy B. Ofori-Ayeh entreated participants to relate their specific work situation to the insights given by the resource person in a bid to improve the client experience at their various service points.

The training took place from September 15 - September 16, 2020.