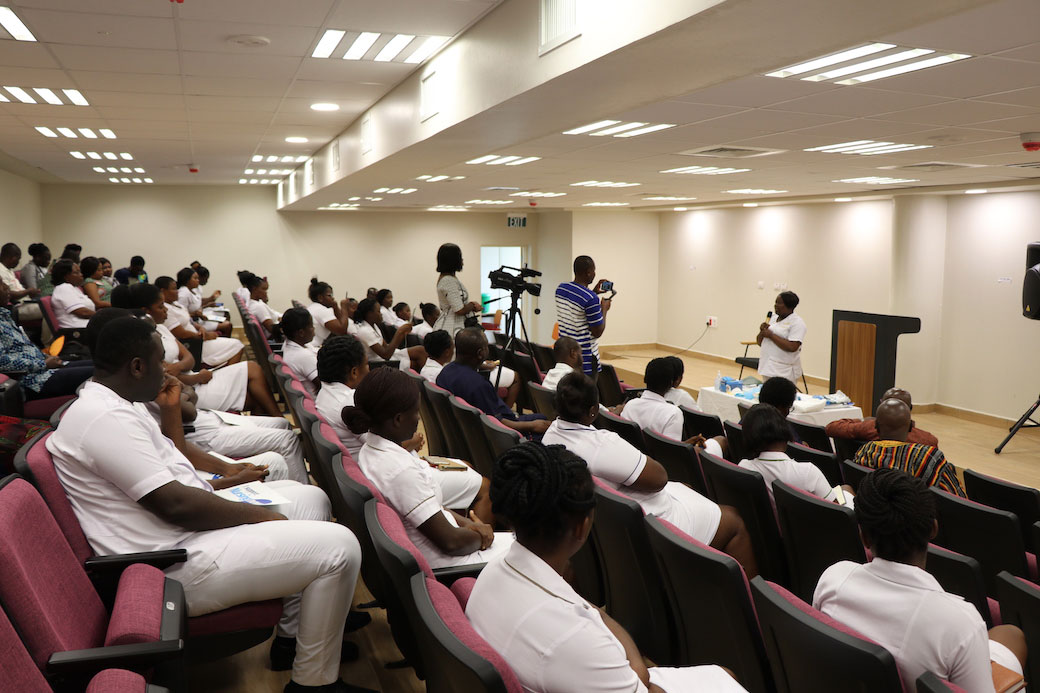 UGMC AND N&MC partner to train nurses
The University of Ghana Medical Centre (UGMC) together with the Nursing and Midwifery Council of Ghana (N & MC) have jointly organized a training exercise on the proper way to don and doff Personal Protective Equipment's (PPE's) for effective COVID-19 management.


The training which took place at the UGMC Medical Training and Simulation Centre, Legon on March 27, 2020 was done for nurses of the Centre in the wake of the current COVID-19 pandemic.


The Director of Nursing and Midwifery Services at UGMC, Mrs. Judith Asiamah who was the facilitator for the training, advised nurses and everyone present to practise precautionary measures before donning or putting on PPE's.  She informed the participants that before donning PPE's, they should wash their hands well with hand washing with soap and water  (for a duration of  between 40 seconds and 60 seconds) or use alcohol-based sanitizers (60% - 90% alcohol content) in the absence of soap and water. She advised them to disinfect their gloved hands at every stage of doffing or removal of PPE's and reminded them to observe social hand washing protocols after glove removal as well as before, in-between patients and after attending to patients.  Mrs. Asiamah also advised the nurses to stay away from overcrowded places, practise coughing etiquette and observe social distancing.


The Registrar of NMC, Mr. Felix Nyante, in his speech, entreated all nurses to stand strong and act professionally at all times as the nation faced these hard times. He said, "this is not the time for us to fold our sleeves, this is the time to prove to Ghanaians and everyone living in Ghana that we are nurses and midwives".  


The Director of the Medical Training and Simulation Centre, Prof. Aaron Lawson,  also added that the reason for the training was to "help equip nurses on the proper use  and disposal of PPE's so that there will be standardization of practice  by nurses within the country".