The Medical &
Scientific Research Centre
The UGMC Medical and Scientific Research Centre (MSRC) aims to facilitate cutting edge translational research that will discover new treatments, methods and procedures to improve the health status of Ghanaians, Africa and the world. The Centre serves as a central hub for local and internationally funded research projects. We are committed to making medical research seamless for Ghanaian and international investigators.
Areas of specific focus include cardiovascular genetics, maternal fetal medicine, regenerative medicine, transplant medicine, infectious diseases, big data science and clinical trials. We seek to create an enabling environment for collaboration with industry, non-governmental organizations and top universities around the world. At UGMC MSRC, we value open communication, accessibility and transparency. We do the necessary work so that investigators can concentrate on what they do best - their RESEARCH.
We welcome faculty from the University of Ghana, other universities in Ghana and abroad to conduct their research at UGMC. We welcome Ghanaian doctors, researchers and scientists in the diaspora to partner with us and contribute their skills to Ghana's development. The Centre is headed by Dr. George Boateng Kyei.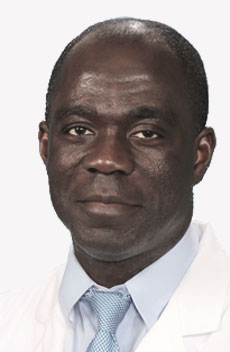 Dr. George Boateng Kyei.
Director of the Medical and Scientific Research Directorate.
Get in touch
---
Phone:

+233 596 993830